List Of States In India and Capitals
India is a country of over 1.38 billion peoples and also one of the biggest democracies in the world. India is a federal union governed under a parliamentary system consisting of 29 states and 9 union territories. All states of India have elected legislatures and governments and all the Union Territories are administered by the President through an Administrator appointed by him/her apart from this, three union territories have their own elected legislatures and governments ( Jammu And Kashmir, Puducherry and NCT of Delhi ).
All these states and union territories are further divided into administrative districts. There are 718 Districts in India administered by their respective State / Union Territory governments. Find the List of states in India below accompanied by one fact about each state
List Of States In India
1. Andhra Pradesh
Capital
Amaravati
Area
1,60,205 Sq. Km
Population
49,386,799
Languages
Telugu
A small village in Andhra is the only place in South India that receives snowfall.
2. Arunachal Pradesh
Capital
Itanagar
Area
83,743 sq. km
Population
13,82,611
Languages
Monpa, Miji, Aka, Sherdukpen, Nyishi, Apatani, Tagin, Hill Miri, Adi, Digaru-Mismi, Idu-Mishmi, Khamti, Miju-Mishmi, Nocte, Tangsa and Wancho.
The North-East states of India are known as the Seven Sister States as Arunachal Pradesh is the largest of all seven sister states of the Northeast.
3. Assam
Capital
Dispur
Area
78,438 sq. km
Population
3,11,69,272
Languages
Assamese
Majuli is recognized as the largest river island in the world which is located in Assam. Also, the World's smallest inhabited river island Umananda is located in Assam.
4. Bihar
Capital
Patna
Area
94,163 sq. km
Population
10,38,04,637
Languages
Hindi
Birthplace of Jainism and Buddhism.
5. Chhattisgarh
Capital
Raipur
Area
1,36,034 sq. km
Population
2,55,40,196
Languages
Hindi
Chhattisgarh accounts for 15% of the total steel production in India.
6. Goa
Capital
Panaji
Area
3,702 sq. km
Population
14,57,723
Languages
Konkani
Goa is the only place in India where you can find Floating Casinos.
7. Gujarat
Capital
Gandhinagar
Area
1,96,024 sq. km
Population
6,03,83,628
Languages
Gujrati
Gujarat is the only present natural habitat of lions outside Africa.
8. Haryana
Capital
Chandigarh
Area
44,212 sq. km
Population
2,53,53,081
Languages
Hindi
Haryana is the largest exporter of Basmati Rice in India.
9. Himachal Pradesh
Capital
Shimla
Area
55,673 sq. km
Population
68,56,509
Languages
Hindi & Pahadi
The highest Cricket pitch of the world is located in Himachal Pradesh.
10. Jharkhand
Capital
Ranchi
Area
79,714 sq. km
Population
3,11,69,272
Languages
Hindi
Jharkhand has ample reserves of mineral resources such as iron ore, coal, mica, and limestone, it accounts for 40% of the total Mineral resources of India.
11. Karnataka
Capital
Banglore
Area
1,91,791 sq. km
Population
6,11,30,704
Languages
Kannada
The state of Karnataka is a host to 13 different languages as Tulu, Konkani, Kodava, Beary, etc. are some of the widely spoken dialects within the state among which Kannada is superior.
12. Kerala
Capital
Thiruvananthapuram
Area
38,863 sq. km
Population
3,33,87,677
Languages
Malayalam
Kalaripayattu is a martial art form that originated in Kerala during the 13th Century.
13. Madhya Pradesh
Capital
Bhopal
Area
3,08,000 sq. km
Population
7,25,97,565
Languages
Hindi
Madhya Pradesh has the largest reserve of Diamonds in India.
14. Maharashtra
Capital
Mumbai
Area
3,07,713 sq. km
Population
11,23,72,972
Languages
Marathi
The Mysterious Lonar lake is the only saline soda lake on earth that was created when a meteor hit earth almost 52000 years ago and is located in Maharastra.
15. Manipur
Capital
Imphal
Area
22,327 sq. km
Population
27,21,756
Languages
Manipuri
The Sport of Polo is believed to have originated in Manipur.
16. Meghalaya
Capital
Shillong
Area
22,429 sq. km
Population
29,64,007
Languages
Khasi, Garo, and English
Mawsynram village in Meghalaya holds the record for receiving the highest rainfall on Earth.
17. Mizoram
Capital
Aizawl
Area
21,081 sq. km
Population
10,91,014
Languages
Mizo and English
The World's largest family as recorded in the Guinness book of the world record resides in Mizoram.
18. Nagaland
Capital
Kohima
Area
16,579 sq. km
Population
19,80,602
Languages
English, Hindi, and 16 tribal dialects
Nagaland is home to the insanely hot and spicy chili pepper, the Bhut Jolokia? Touted as the world's hottest chili pepper, the Bhut Jolokia or ghost pepper is most likely to be found in the backyards of every Naga home.
19. Odisha
Capital
Bhubaneshwar
Area
 1,55,707sq. km
Population
4,19,47,358
Languages
Oriya
The Jagannath Temple In Puri (Odisha) Has The Biggest Kitchen In The World.
20. Punjab
Capital
Chandigarh
Area
50,362 sq. km
Population
2,77,04,236
Languages
Punjabi
The highest contributor to the Indian Army.
21. Rajasthan
Capital
Jaipur
Area
3,42,239 sq. km
Population
6,86,21,012
Languages
Hindi and Rajasthani
Rajasthan is India's largest state by area.
22. Sikkim
Capital
Gangtok
Area
7,096 sq. km
Population
6,07,688
Languages
Lepcha, Bhutia, and Nepali
Baba Harbhajan Singh temple Indian army soldier Major "Baba" Harbhajan Singh is hailed as the "Hero of Nathula." It is believed that his spirit protects all the soldiers who serve their country while serving in the inhospitable high-altitude terrain of the Eastern Himalayas.
23. Tamil Nadu
Capital
Chennai
Area
1,30,058 sq. km
Population
7,21,38,958
Languages
Tamil
Tamil Nadu is home to over 30,000 Hindu temples, and many of them are centuries old.
24. Telangana
Capital
Hyderabad
Area
112,077 sq. km
Population
3,50,04,000
Languages
Hindi
The Kohinoor was mined out of the state's Golconda diamond mines.
25. Tripura
Capital
Agartala
Area
10,491.69 sq. km
Population
36,71,032
Languages
Bengali and Kokborok
Tripura has free education for children in the age group 6-14 Years.
26. Uttarakhand
Capital
Dehradun
Area
53,484 sq. km
Population
1,01,16,752
Languages
Hindi, Garhwali, Kumaoni
Tungnath is the highest Lord Shiva temple in the World located in Uttarakhand.
27. Uttar Pradesh
Capital
Lucknow
Area
2,40,928 sq. km
Population
19,95,81,477
Languages
Hindi and Urdu
Uttar Pradesh is the most populous state in India with over 200 million population.
28. West Bengal
Capital
Kolkata
Area
88,752 sq. km
Population
9,13,47,736
Languages
Bengali
The Great Banyan Tree in the Botanical Garden in Kolkata is the largest tree in the world in terms of the area covered.
List of Union Territories of India
1. Andaman & Nicobar Islands
Capital
Port Blair
Area
8,249 sq. km
Population
3,79,944
Languages
Hindi, Nicobarese, Bengali, Tamil, Malayalam, Telugu
North Sentinel Island these islands is home to one of the most isolated human populations in the world.
2. Chandigarh
Capital
Chandigarh
Area
114 sq. km
Population
10,54,686
Languages
Hindi, Punjabi, English
As the city is the home of three governments, the maximum of the people staying there is working as government officials. This has awarded the city the name of 'Pensioner's Paradise'.
3. Dadra and Nagar Haveli
Capital
Silvassa
Area
491 sq. km
Population
3,42,853
Languages
Gujarati, Hindi
4. Daman and Diu
Capital
Daman
Area
112 sq. km
Population
2,42,911
Languages
Gujarati
A large number of tourists come to Daman who is not interested in sightseeing. They go to Daman for alcohol.
5. NCT of Delhi
Capital
Delhi
Area
1,483 sq. km
Population
1,67,53,235
Languages
Hindi, Punjabi, Urdu & English
Delhi is the Second Most Populated City in the World.
6. Jammu & Kashmir
Capital
Jammu (Winter)
Srinagar (Summer)
Area
2,22,236 sq. km
Population
1,25,00,000
Languages
Urdu, Dogri, Kashmiri, Pahari, Ladakhi, Balti, Gojri and Dari
Jammu and Kashmir is the only state in India with a Muslim-majority population.
7. Ladakh
Capital
Leh
Area
59,146 sq. km
Population
2,74,000
Languages
Hindi and English
Situated at an altitude of 4,500 meters, the Indian Astronomical Observatory at Hanle (Ladakh) is the second-highest optical telescope in the world.
8. Lakshadweep
Capital
Kavaratti
Area
32 sq. km
Population
64,429
Languages
Malayalam, Jeseri (Dweep Bhasha) and Mahal
Lakshadweep is the smallest state of India in terms of area.
9. Puducherry
Capital
Puducherry
Area
479 sq. km
Population
12,44,464
Languages
Tamil, Telugu, Malayalam, English, and French
Puducherry has been built by following an excellent town planning idea. The place is better known as White Town.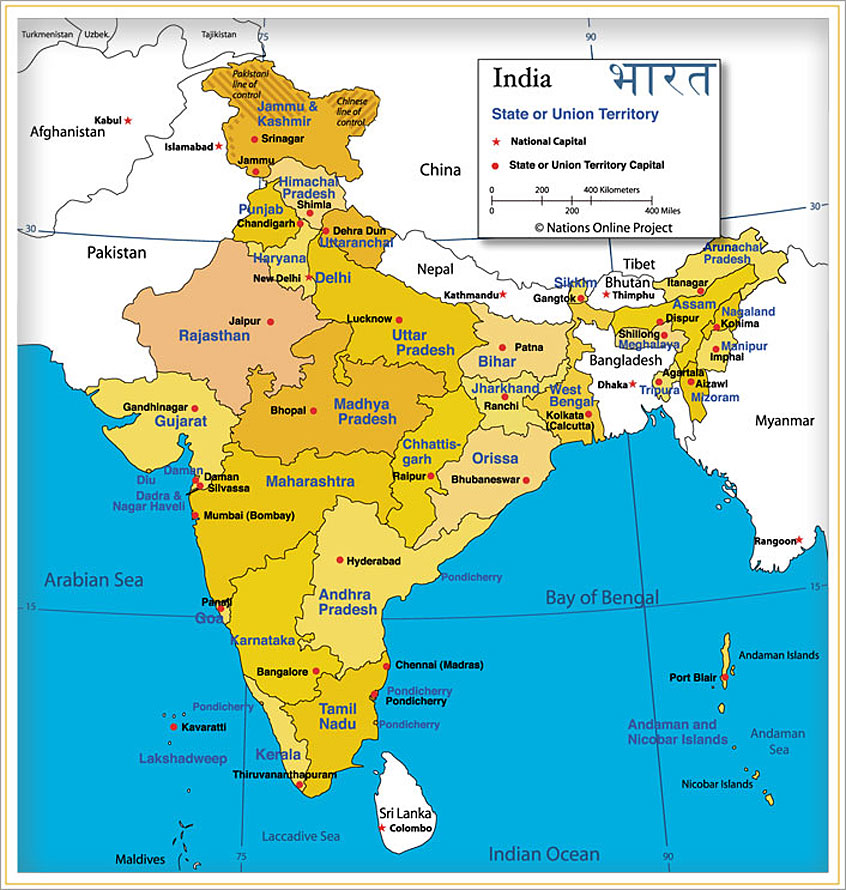 Image Credit: https://www.nationsonline.org
Source of Information: https://knowindia.gov.in